Dr. Chiaki Takagi is a senior lecturer of Japanese and Asian Studies and serves as the director of Japanese Studies. She is a member of the Department of Languages,
Literatures
, and Cultures, and works with colleagues with different cultural backgrounds, sharing common goals to provide dynamic instruction that enhances students' global education. She also works closely with the International and Global Studies and the study abroad program. In addition, she is one of the
University
Teaching and Learning Commons (UTLC) Global Engagement Faculty Fellows.
I was born in Japan and came to the United States seeking international experience. As my academic background shows, I am interested in learning about different cultures and acquiring knowledge, skills, and multiple perspectives to contribute to society as a global citizen.
I received a Master's degree in African American Literature and studied Post-colonial theory and Literature for my Ph.D. Before coming to UNCG, I was a teacher of Japanese language and culture for 10 years, teaching elementary school children at a global magnet school.
Cultivating Meaningful Courses
Dr. Takagi receiving the 2013 Alumni Teaching Excellence
Award from Chancellor Brady
My scholarship is closely tied to the cultural studies courses I have been teaching. I have designed and implemented literature, film and cultural studies courses that deepen students' understanding of Japanese culture from multiple perspectives.
In spring 2015 I am very excited about teaching a new course, JNS 499 Practicum/a service learning course, in which students share their knowledge of the Japanese language and culture with children in the local school system. The course will be a unique experiential learning opportunity for our students, and at the same time, it will build a Japanese learning community among young students.
Creating Community and Re-Learning a Culture
My goal is to create an academic community that encourages all students to participate in intellectual cultural exchange through the Japanese program. I also aim to educate the whole individual through the program. The last 14 years, promoting the Japanese program at UNCG has been the central commitment of my work, and I have been enjoying working with our enthusiastic students.
Through the academic learning process as well as professional and personal experiences, I have realized that learning new cultures involves re-learning one's own culture and teaching one's own culture adds a new dimension to one's own global awareness. Thus, without hesitation, I can say that my everyday life is a precious process of global learning for me and I endeavor to share this with my students and colleagues.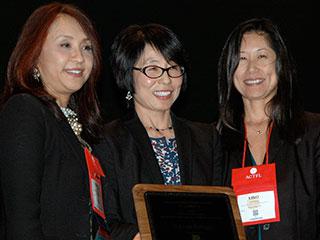 Dr. Takagi was awarded the prestigious teaching award
from the American Association of Teachers of Japanese
I have recently been awarded the prestigious teaching award from the American Association of Teachers of Japanese. When I began teaching Japanese over 20 years ago, I never even dreamed of receiving such honor.
I would like to thank Dr. Amy Williamsen, Dr. Penelope Pynes, Dr. Roberto Campo, and all of my colleagues for their support. Without their understanding, encouragement, and guidance, I would not have been able to come this far.
To learn more about the American Association of Teachers of Japanese and the prestigious teaching award, visit
http://www.aatj.org/